Calamarata with zucchini and shrimp, shrimp quenelle and lemon zest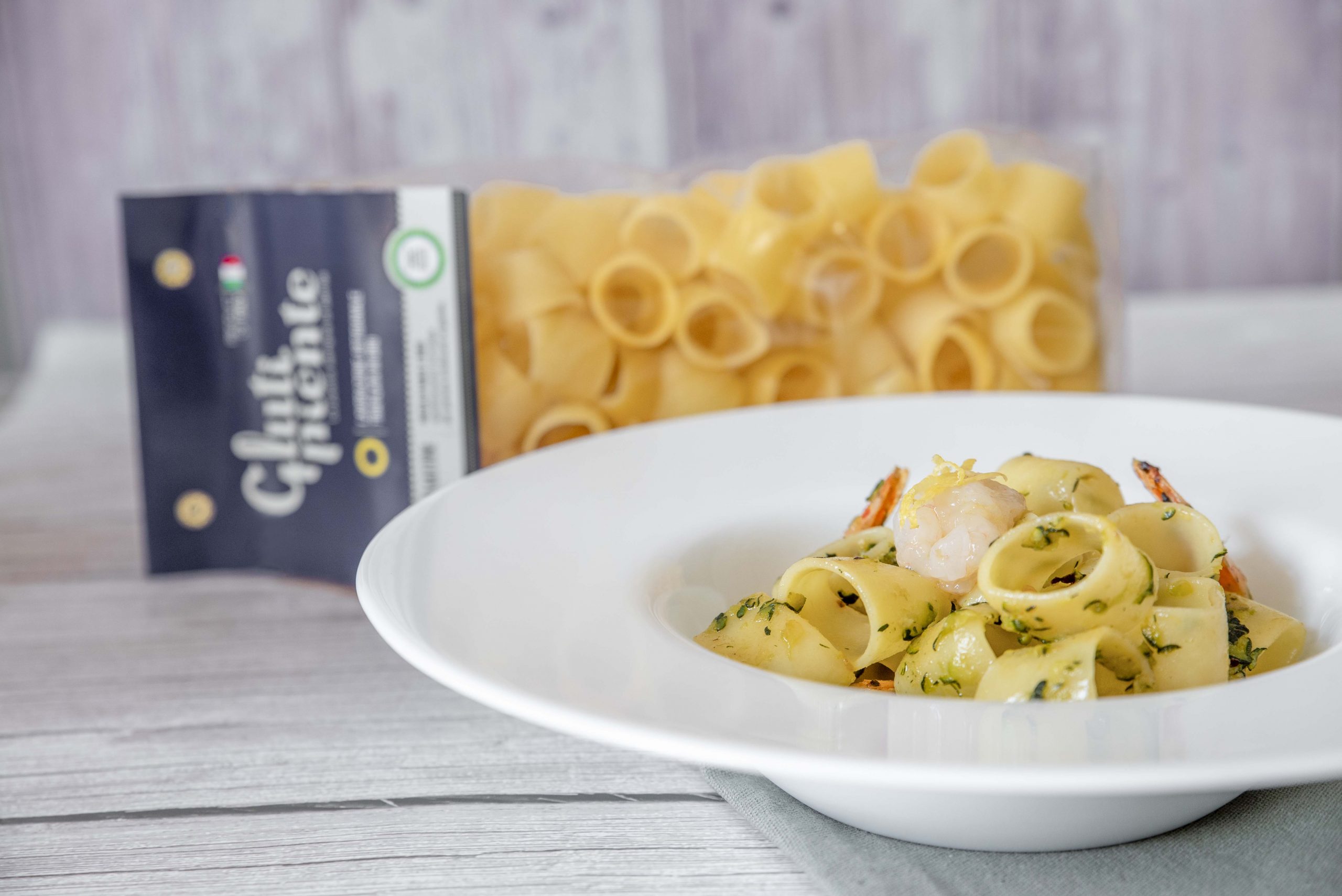 Calamarata Glutiniente is a pasta format that binds well with so many sauces. Through artisanal processing and gold-drawing, it always stays al dente!
Calamarata with zucchini and shrimp is a typical Italian seafood dish.
A great idea to propose to your guests for dinner or to enjoy in more informal situations.
Complete, quick and easy to prepare that will surprise all the most demanding palates with its lively taste.
Often there is a belief that preparing a pasta dish with fish and, what's more, without gluten does not meet our expectations, but it does not. Glutiniente pasta with zucchini and shrimp involves a few simple steps for a tasteful success guaranteed. A complete dish with a delicate flavor that can also be prepared on more special occasions making it tastier and beautiful to present with a quenelle of shrimp and a sprinkling of lemon zest.
Tempo di preparazione

30 min

Tempo di cottura

15 min

Tempo totale

45 min

Preparation Time

30 min

Cooking Time

15 min

Total

45 min
Ingredients
Per il condimento
500 gr of shrimps
1 clove of garlic
2 zucchini
q.b. olio extravergine d'oliva
q.b zest di limone
Per la pasta
Calamarata Glutiniente
Acqua
Sale
Method
1
The key step to take is to wash the shrimp under running water, then detach the heads and shuck them. Remove the intestines inside the shrimp and keep some of the shrimp that you will need to finely chop with a knife for quenelles. Transfer the tartare to a bowl and season with drizzle of evo oil and a pinch of salt. Cover with foil and keep in the refrigerator. Finely chop the zucchini as well and set aside.
Meanwhile, crush the garlic and heat with 2 tbs of evo oil in a nonstick skillet to then hold the pasta with the sauce. Cook the zucchini a few minutes and meanwhile salt the water for the pasta and lower it. After cooking the zucchini, add the shrimp and cook no more than 4-5 minutes, adjust the salt.
Drain the pasta very al dente and add it to the zucchini and shrimp, stirring it for a few minutes.
Plate and use two tablespoons to form quenelles of tartare, then flavor with grated lemon zest and serve.