Glutiniente Casereccia pasta with artichoke cream, Parmesan cheese and parsley: a gluten-free delight!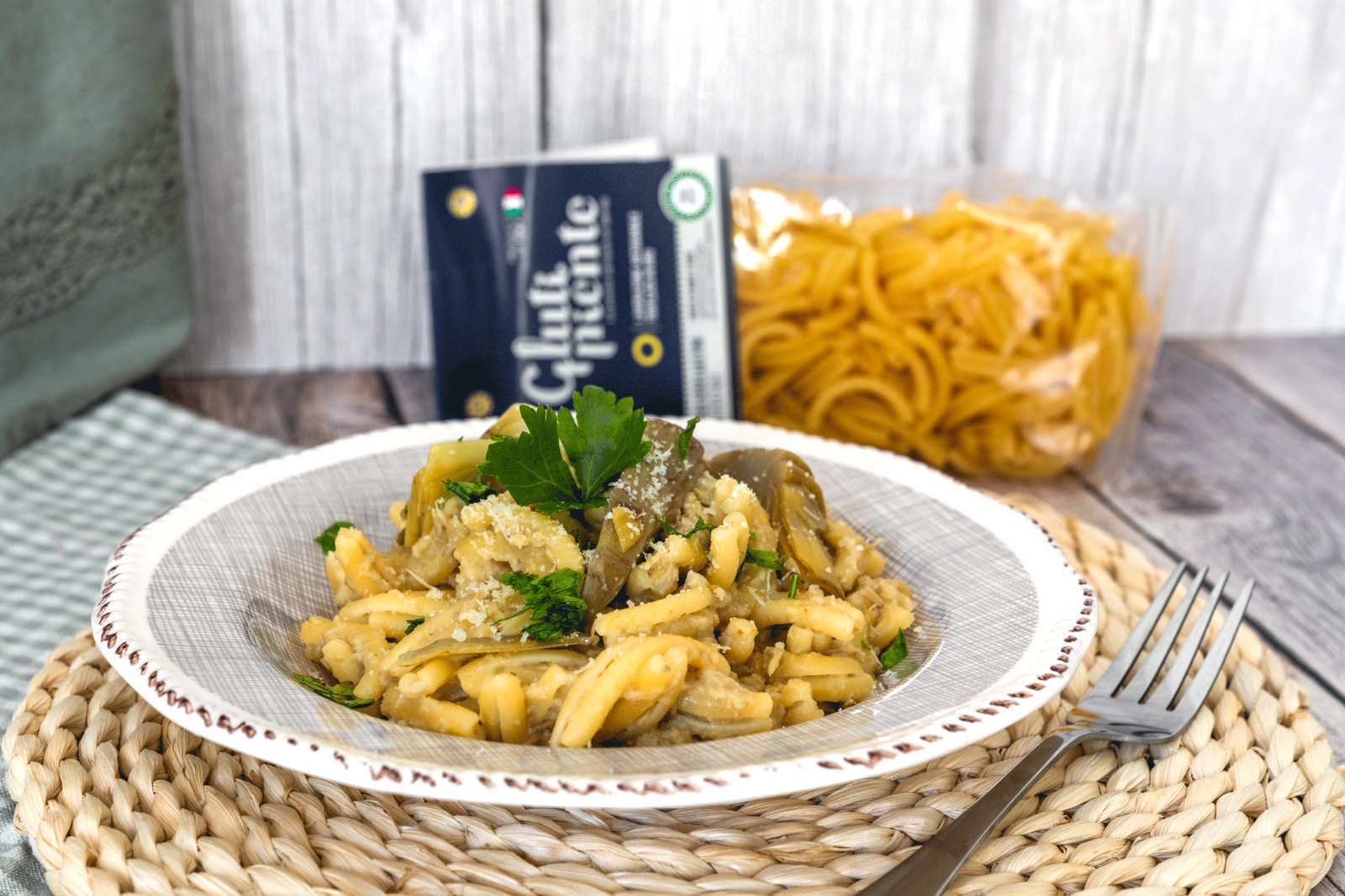 If you also love the delicate and distinctive flavor of artichokes, you can't pass up today's recipe: Glutiniente Casereccia pasta with artichoke cream, parmesan cheese and parsley. A very simple but richly flavored pasta dish, perfect for maximizing the flavor of artichokes. This delicacy is a perfect combination of fresh and tasty flavors, ideal for delighting the palate during a special lunch or dinner. Taking advantage of our Casereccia Glutiniente pasta, you will enjoy a unique texture and unmistakable flavor, enriched by the creaminess of artichokes, the salty note of Parmesan cheese and the freshness of parsley. Let yourself be won over by this recipe that will surprise you with every bite!
Tempo di preparazione

15 min

Tempo di cottura

10 min

Perform Time

15 min

Tempo totale

40 min

Cooking Time

20 min

Total

35 min
Ingredients
Seasoning
6-8 artichokes, cleaned and sliced (keep 2 artichokes aside for garnish)
1 medium onion, chopped
3 tablespoons extra virgin olive oil
500 ml vegetable broth
parsley
50g grated parmesan cheese (optional)
Salt and pepper to taste
Pasta
Glutiniente Casereccia 
Water
Salt
Method
1
Start by preparing the artichokes: clean them, remove the tougher outer leaves and slice them. Keep two artichokes aside for the garnish.
In a large pot, heat 2 tablespoons of olive oil and add the chopped onion. Wilt the onion until golden brown. Add the artichoke slices (excluding those intended for the garnish) to the pot with the onion. Let cook for a few minutes until the artichokes have softened. Prepare the artichoke cream: transfer half of the cooked artichokes to a blender and 300 ml of vegetable stock. Blend everything until a velvety smooth cream is obtained. If necessary, add more vegetable broth to achieve the desired consistency. Meanwhile, bring a pot of lightly salted water to a boil and cook the pasta following the instructions on the package to achieve al dente cooking. While the pasta is cooking, thinly slice the two artichokes kept aside for the garnish. In a skillet, heat 1 tablespoon of olive oil and sauté the artichoke slices for a few minutes until slightly crispy. Season with salt and pepper to taste.
Once the pasta is cooked, drain it and transfer it to the pan with the artichoke cream. Stir well to blend the pasta with the cream. If desired, add the grated Parmesan cheese to the pasta and stir to let it melt and join the cream. Before serving, garnish the Pasta ai Carciofi with the artichoke slices and fresh parsley.
Now you can enjoy your delicious Casereccia Glutiniente with artichoke cream, Parmesan cheese and parsley. We are sure that this recipe will win you over and make you appreciate our Glutiniente artichokes even more. Enjoy!