Glutiniente Maccheroni rigati interni with radicchio, gorgonzola and walnuts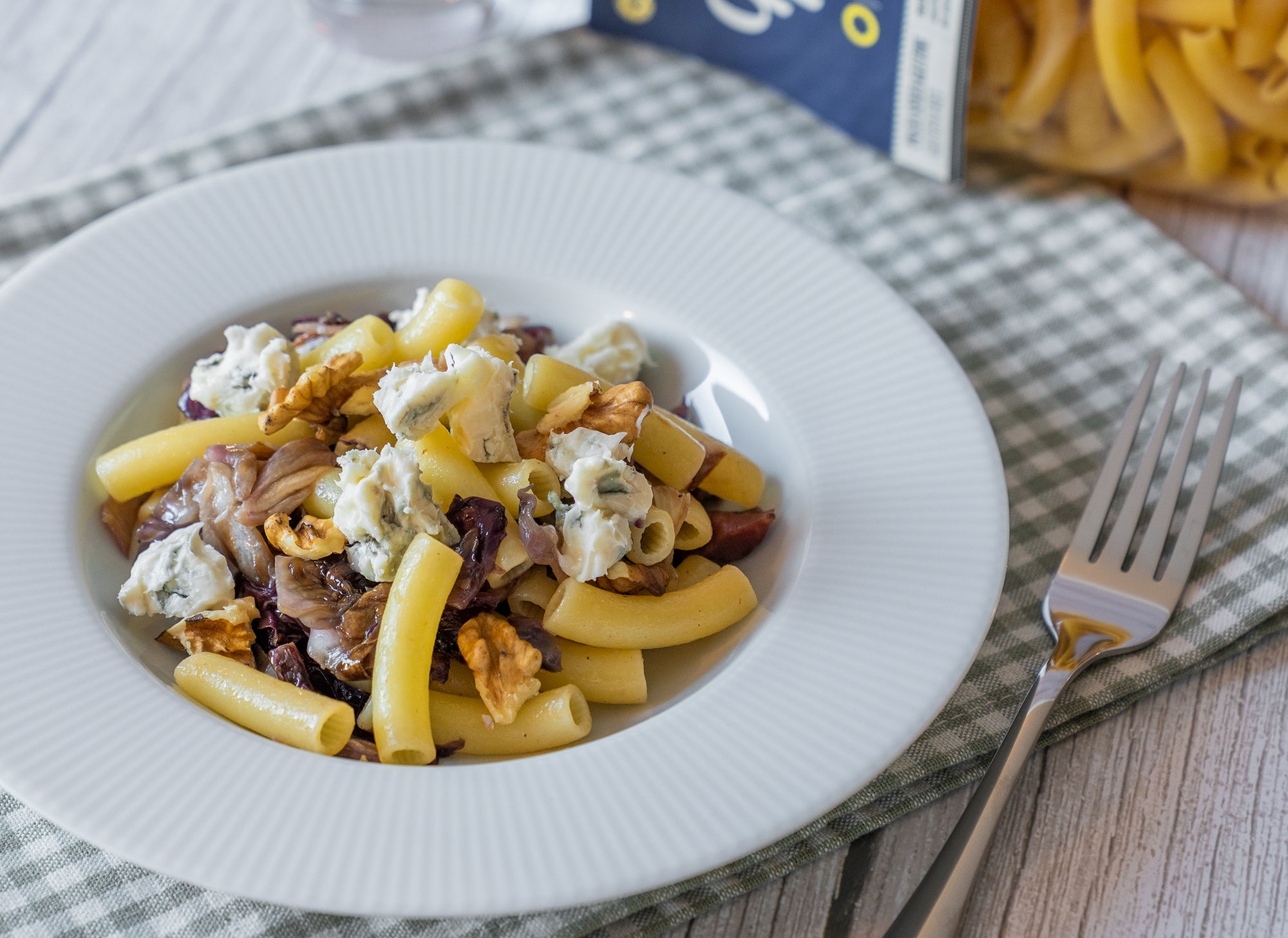 Radicchio, gorgonzola and walnuts together can build a great sauce for an extraordinary first course. A simple and mouth-watering recipe, affordable for everyone but able to amaze your guests and relatives. For this recipe we have chosen to use Glutiniente internal Maccheroni rigati with the characteristic perforated and elongated shape, so that the pasta can best absorb the sauce. The perfect porosity of Maccheroni rigati interni Glutiniente is achieved by the gold-drawing process.
Glutiniente Maccheroni rigati interni with radicchio, gorgonzola and walnuts is a first course that is both rich in flavor and practical to prepare and economical. A perfect course for a family meal to be accompanied with a good glass of red wine.
Making this dish is anything but difficult and will surprise everyone's palate! For a more delicious result you can complete the dish with a sprinkling of parmesan cheese.
Tempo di preparazione

10 min

Tempo di cottura

20 min

Perform Time

30 min

Tempo totale

1 hr

Cooking Time

20 min

Total

30 min
Ingredients
Seasoning
1/4 onion
1/2 radicchio
120 g sweet Gorgonzola cheese
2-3 tablespoons extra-virgin olive oil
q.b salt and pepper
Pasta
Maccheroni rigati interni Glutiniente
Water
Salt
Method
1
Fill a pan with water, salt it and place it on the stove, it will be used to cook the pasta.
Peel the onion, chop it finely, browning it in a pan with extra virgin olive oil.
Wash the radicchio, remove the spoiled outer leaves and the woody part then cut it into strips. Add it to the onion, season with salt and pepper and cook for 5 minutes.
In the meantime, cook the Glutiniente Maccheroni rigati interni and drain them al dente, add them to the sauce along with a ladleful of the pasta cooking water and let everything thicken on the stove for 30 to 40 seconds.
Add gorgonzola flakes, walnut kernels and serve.
Enjoy!