Glutiniente Sedanini with zucchini, speck and parmesan cheese: the quick and mouthwatering recipe perfect for sudden moments of hunger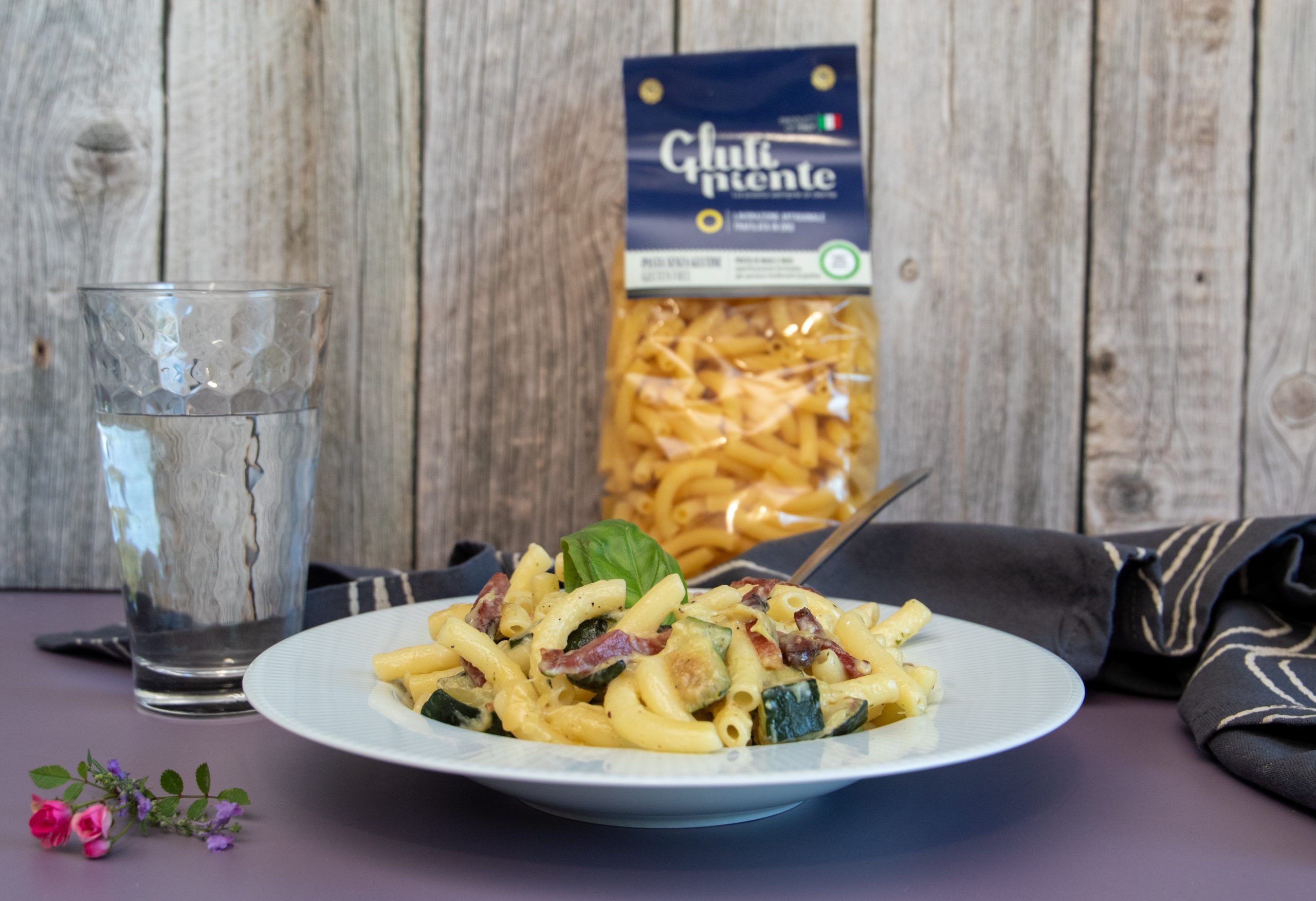 Glutiniente Sedanini with zucchini, speck and parmesan cheese are the perfect answer to your hungry moments, when time is a precious commodity but you don't want to give up a delicious and satisfying dish. This recipe combines high-quality ingredients in an extraordinary balance. Zucchini, with its fresh, crisp flavor, marries harmoniously with the smoky, salty taste of speck. Everything is then crowned by the creamy touch offered by Parmigiano Reggiano, creating a dish that is an authentic ode to good food. In a few quick and easy steps, you will be able to prepare a delicious dinner or lunch that will captivate with its simplicity.
Follow the steps to prepare this gluten-free first course.
Perform Time

10 min

Cooking Time

20 min

Total

30 min
Ingredients
Seasoning
200g speck in strips
50g Parmesan cheese
2 large zucchini
2 cloves of garlic
Extra-virgin Olive Oil
salt
black pepper
Pasta
320g Glutiniente Sedanini
Water
Salt
Method
1
To prepare this tasty first course, start by cleaning the zucchini, then wash them, trim them and cut them into rounds.
In a frying pan, put a large round of oil, then add the garlic and sauté until golden brown. At this point, add the zucchini, season with salt and pepper to taste, and let them soften. At the same time, bring the water to a boil and brown the speck, previously cut into strips, until it turns a deeper color and reaches a certain crispness. After 2-3 minutes of cooking the zucchini, you can add the speck, deglaze with white wine and lower the pasta. Once cooked, drain the pasta directly into the pan, let it cook in the pan for about 2 minutes, add the Parmigiano Reggiano and toss to coat, adding a little cooking water if necessary.
Enjoy!