Serpentine Glutiniente with stracciatella soup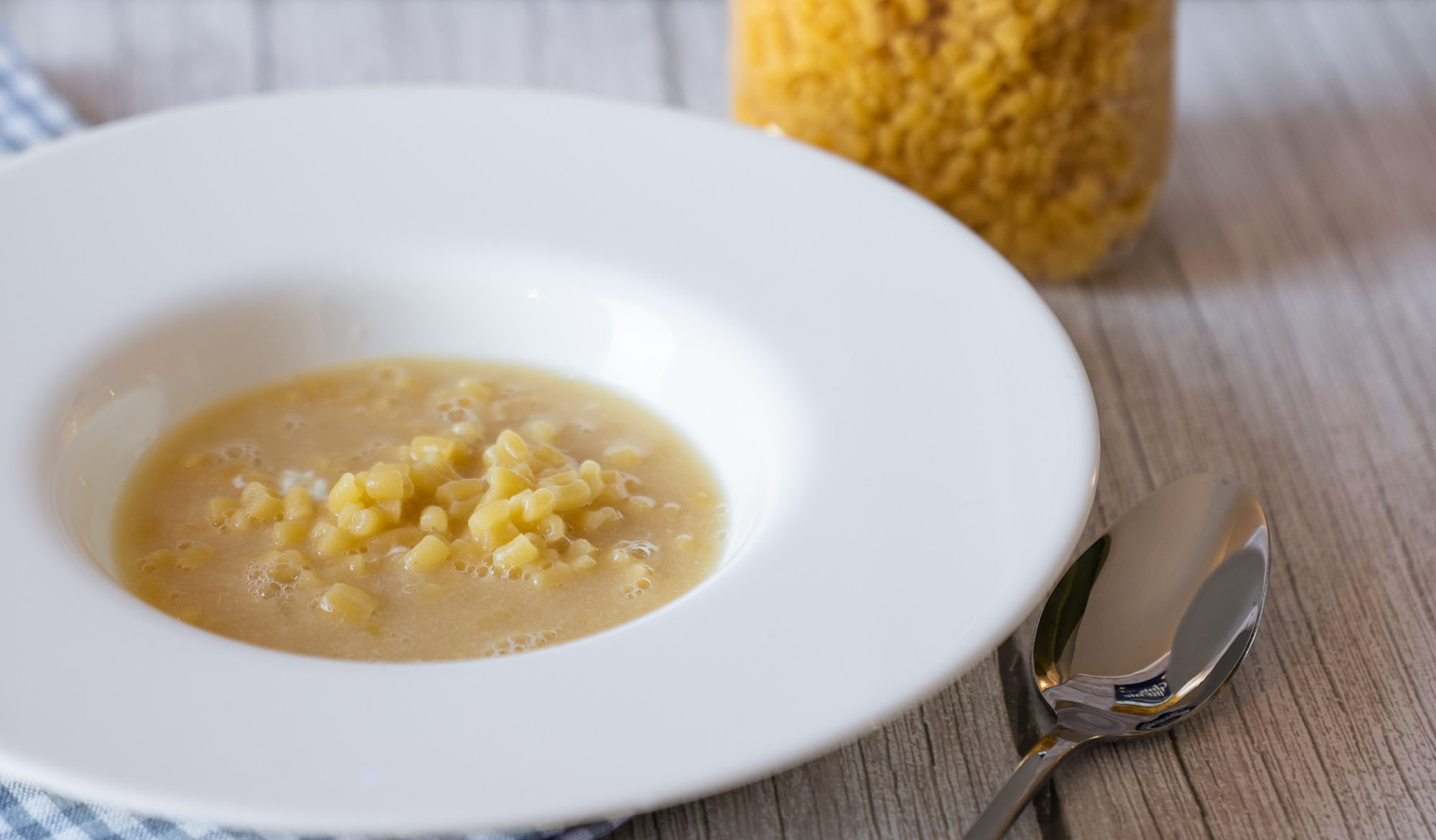 Each of us carries a sweet childhood memory of the pastina with Stracciatella in broth that our grandmother used to prepare for us, which we still associate with happy and carefree moments of our youth.
We prepare this tasty recipe of pastina with egg with the smallest pasta format we have in our pantry: the gold-drawn Gluten-Free Serpentine. An extremely simple dish ideal to serve on winter evenings, or to prepare for the little ones while passing on a bit of our memories of the past.
Serpentine Glutiniente with stracciatella in broth is a light and warming dish: it is a mixture of eggs and Parmesan cheese that is dipped in vegetable broth until you get little shreds inside the soup.
Putting together the recipe for Serpentine Glutiniente with stracciatella in broth requires only a few ingredients and all the love that our grandmother employed.
Tempo di preparazione

15 min

Tempo di cottura

1 hr 15 min

Tempo totale

1 hr 30 min

Preparation time

15 min

Cooking time

1 hr 15 min

Total

1 hr 30 min
Ingredienti
Per il condimento
2 l water
200 g potatoes
200 g carrots
200 g copper onions
q.b. fine salt
2 eggs
80 g of Parmesan cheese
Per la pasta
Serpentine Glutiniente
Vegetable broth
Salt
Procedimento
1
To cook Serpentine Glutiniente with Stracciatella in broth start by preparing the vegetable broth. Then peel the vegetables. Peel the potato and cut it into chunks; move on to the carrot by peeling it and cutting it into fairly thick chunks; continue by peeling the onion and chopping it up. As soon as the diced vegetables are ready add the water and salt and cook until the vegetables, piercing them with a fork, are soft and the broth has taken on a less watery consistency and a slightly golden color. When it is cooked, strain the broth from the vegetables, bring it to a boil and submerge the Serpentine Glutiniente. In the meantime, devote yourself to the beaten eggs, salt and mix with the Parmesan cheese with a kitchen whisk or simply with the help of a fork. When the batter is cooked pour the mixture into the boiling broth and stir for a couple of minutes until it congeals.
Serve the Serpentine in broth while still steaming and enjoy the warmth of a delicate yet delicious recipe.