Calamarata Glutiniente with Carrot Pesto and Tuna Clumps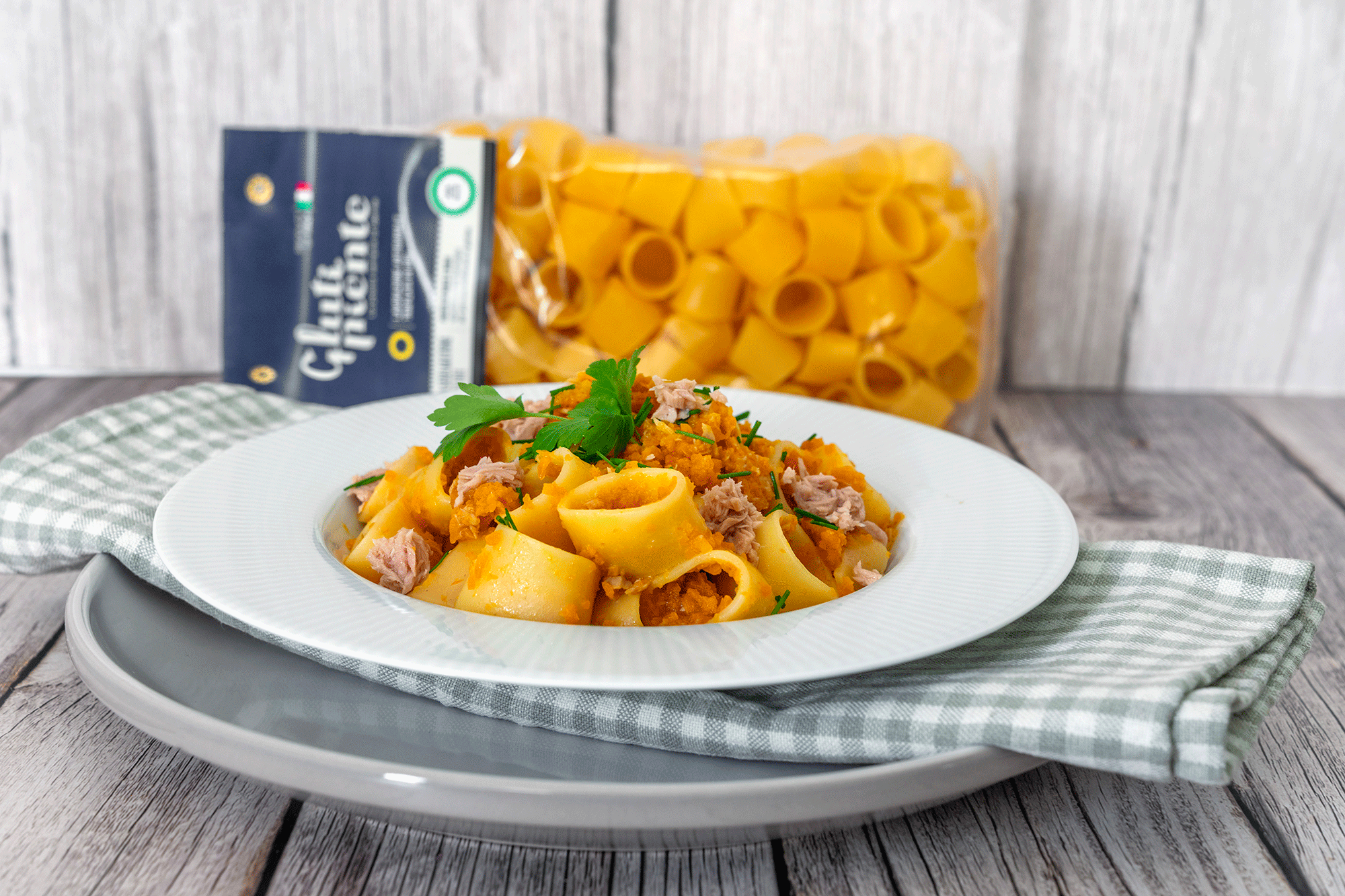 Calamarata Glutiniente is the perfect choice for gluten-free pasta that maintains an al dente texture. Composed of a combination of 85 percent corn flour and 15 percent rice flour, this gold-drawn pasta offers a delicious, uncompromising taste. Today we present a recipe that combines our Calamarata with a carrot pesto and clumps of tuna for a dish that explores unique and appealing flavors.
Tempo di preparazione

15 min

Tempo di cottura

15 min

Perform Time

15 min

Tempo totale

45 min

Cooking Time

15 min

Total

30min
Ingredients
Seasoning
250g Calamarata Glutiniente
2 carrots, peeled and cut into rounds
1 scallion, thinly sliced
150g tuna in oil, drained and crumbled
Fresh parsley, finely chopped
Salt and pepper to taste
Pasta
Glutiniente Calamarata 
Water
Salt
Method
1
In a pot, bring plenty of salted water to a boil to cook the Calamarata Glutiniente. Follow the instructions on the package for the recommended cooking time. Remember to always keep the pasta al dente to get the most out of its unique texture.
Meanwhile, in a skillet, heat a drizzle of olive oil and add the sliced scaloglio. Let it wilt over medium heat.
Add the sliced carrots and cook for 8-10 minutes, until tender.
Drain the Calamarata Glutiniente al dente and save some of the cooking water.
Add the pasta to the pan with the carrots and scaloglio. Also add the crumbled tuna and stir gently to combine all the ingredients.
If necessary, add a little more pasta cooking water to make the sauce creamier. Season with salt and pepper to taste.
Scatter the Calamarata with carrot pesto and tuna clumps onto serving plates and sprinkle with freshly chopped parsley.
Serve hot and enjoy a unique and gluten-free flavor explosion!
With this recipe, you will experience the goodness of Calamarata Glutiniente along with the sweet aroma of carrots and the savory note of tuna. Enjoy!
Note: Always remember to keep the pasta al dente to appreciate its perfect texture.
Enjoy!