Ditalini Glutiniente with chickpeas and chestnuts: a dish to celebrate Autumn's flavors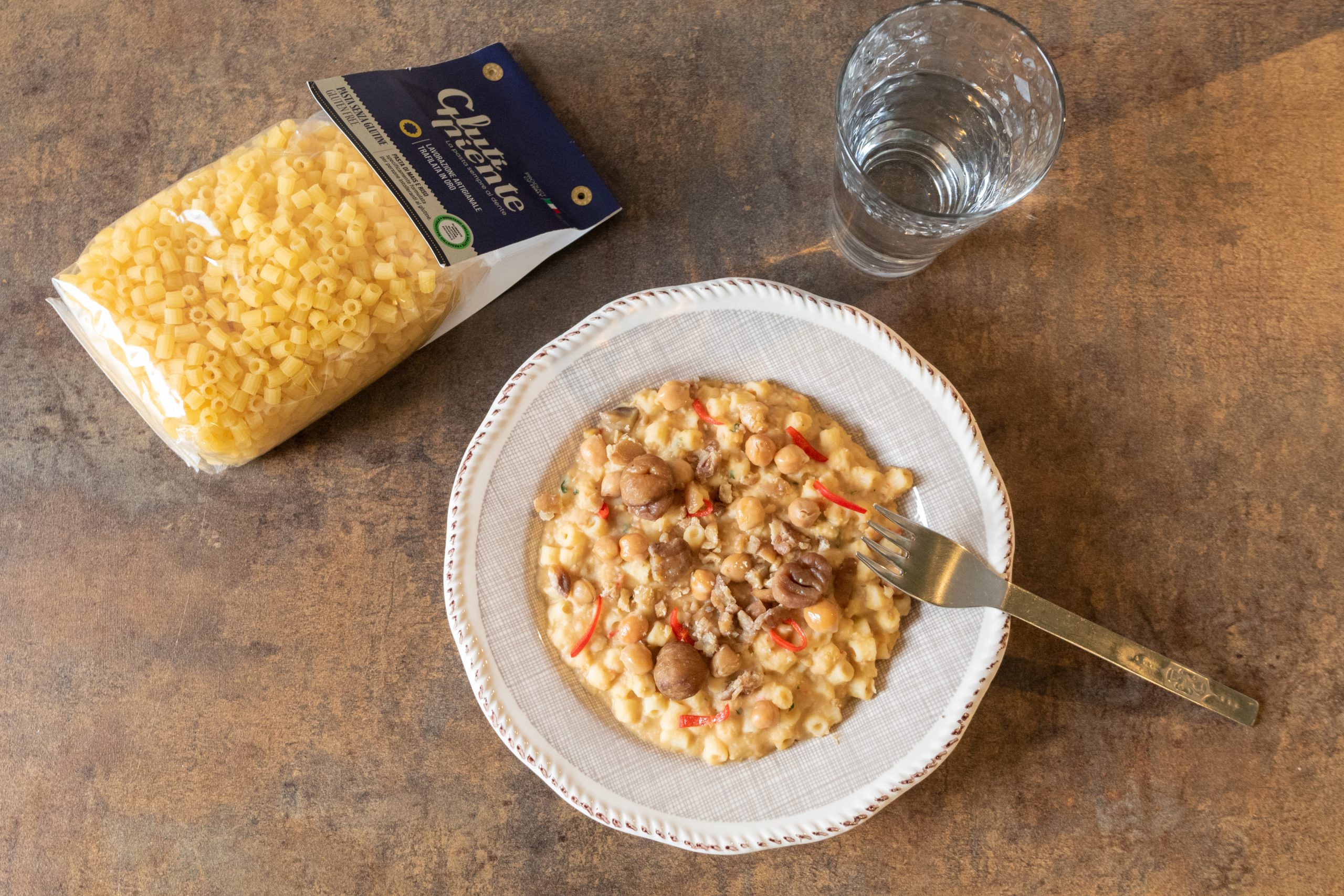 Glutiniente Ditalini with chickpeas and chestnuts represent a rich and tasty first course, ideal for the cold season, characterized by a hearty texture and rustic flavor. The easy and very quick preparation combined with the risotto cooking of the pasta make this complete dish characterized by a delicious cremosity.
Perform Time

5 min

Cooking Time

30 min

Total

35 min
Ingredients
Seasoning
120g of precooked chickpeas
50g of precooked chestnuts
1 garlic cloves
vegetable broth
1/2 chili pepper stripped of seeds
Extra-virgin Olive oil
Salt
Pepper
Pasta
Glutiniente Ditalini Rigati
Water
Salt
Method
1
Begin by bringing a pot of salted water to a boil and cooking the pasta according to the instructions on the package until al dente. Drain the pasta and set aside.
In a large skillet, heat the olive oil over medium heat. Add the garlic clove and sauté until it takes on its characteristic golden color.
Coarsely chop 3/4 of the chestnuts and add them to the skillet along with the precooked chickpeas, stirring well. Allow to cook for about 8 minutes to allow the ingredients to blend and reach the desired consistency.
Pour the vegetable broth into the pan with the chickpeas and chestnuts. Bring to a boil, then reduce the heat and simmer over medium-low heat for about 10 to 15 minutes, or until the liquid reduces and the sauce thickens slightly. Add salt and pepper to taste.
Add the Glutiniente Ditalini to the pan with the chickpea and chestnut sauce. Stir gently to ensure that the pasta is well blended with the sauce.
Serve your pasta with chickpeas and chestnuts hot, garnishing each plate with fresh chili and crumbled chestnuts.
Enjoy!