Glutiniente Cold Pasta: Summer recipe with Penne rigate interior, cherry tomatoes and fresh basil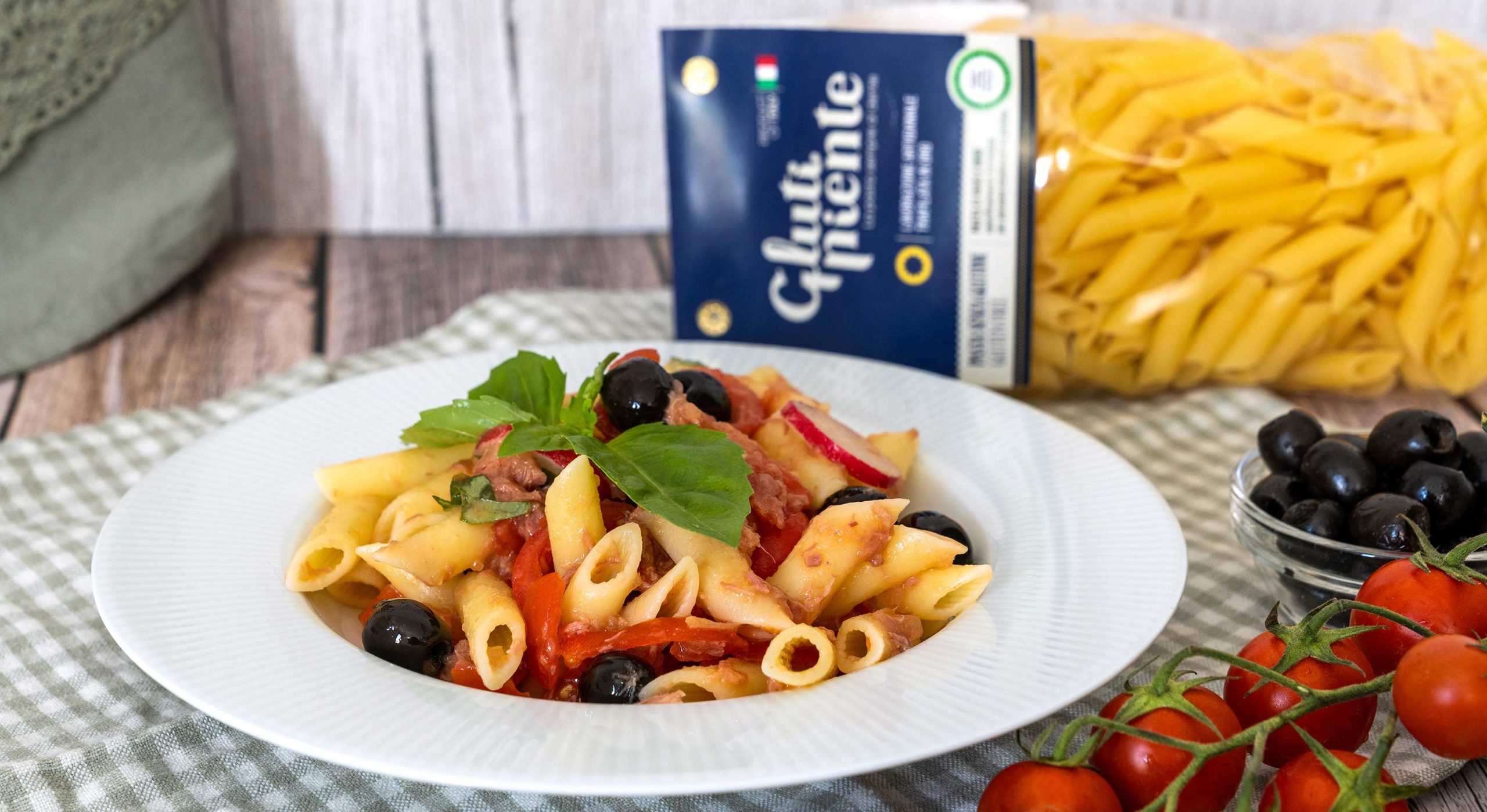 Today we bring you a cool summer recipe, perfect for hot days: the "Glutiniente Cold Pasta." This dish involves the use of our in-house penne rigate, which are unique due to the gold-drawing process that gives them a perfect porosity to absorb any sauce. In addition, our careful low-temperature drying process ensures gluten-free pasta with impeccable cooking retention, for dishes that are always al dente and flavorful. Let's get ready to delight the palate with this delicious and simple recipe!
Tempo di preparazione

10 min

Tempo di cottura

10 min

Perform Time

10 min

Tempo totale

30 min

Cooking Time

10 min

Total

20 min
Ingredients
Seasoning
250g cherry tomatoes, cut in half
100g black olives, pitted and cut into rounds
3 tablespoons of extra virgin olive oil
150g canned meat (tuna, chicken or turkey), drained and shredded
Fresh basil leaves to taste
Salt and pepper to taste.
Pasta
Glutiniente Penne rigate interne
Water
Salt
Method
1
Let's start by cooking our Glutiniente gluten-free pasta. Bring a pot of lightly salted water to a boil and cook the Penne rigate interna following the instructions on the package to achieve al dente cooking. When ready, drain the pasta and rinse under cold water to stop cooking. Allow it to cool completely.
Let's prepare the ingredients for the dressing. Cut the cherry tomatoes in half and the black olives into rounds. Shred the canned meat of choice (tuna, chicken or turkey) and set aside a few fresh basil leaves for the final garnish.
In a large bowl, combine the internal Glutiniente Penne rigate, cherry tomatoes, black olives, and shredded meat. Drizzle with the extra virgin olive oil and toss gently to distribute the dressing evenly.
Season the cold pasta dish with salt and pepper to taste, making sure to balance the flavors.
Before serving, garnish the Glutiniente Cold Pasta with a few fresh basil leaves to add a touch of freshness to the dish.
Glutiniente Cold Pasta is ready to be enjoyed! Serve it as a main dish during a summer picnic, a barbecue with friends or as a light and tasty lunch.
We are confident that this recipe will become a must in your summer culinary repertoire. Enjoy the freshness of Glutiniente gluten-free pasta, enhanced by a simple but tasty sauce. Enjoy!