Glutiniente Gnocchetti with pumpkin and sausage: the autumn dish with intense flavors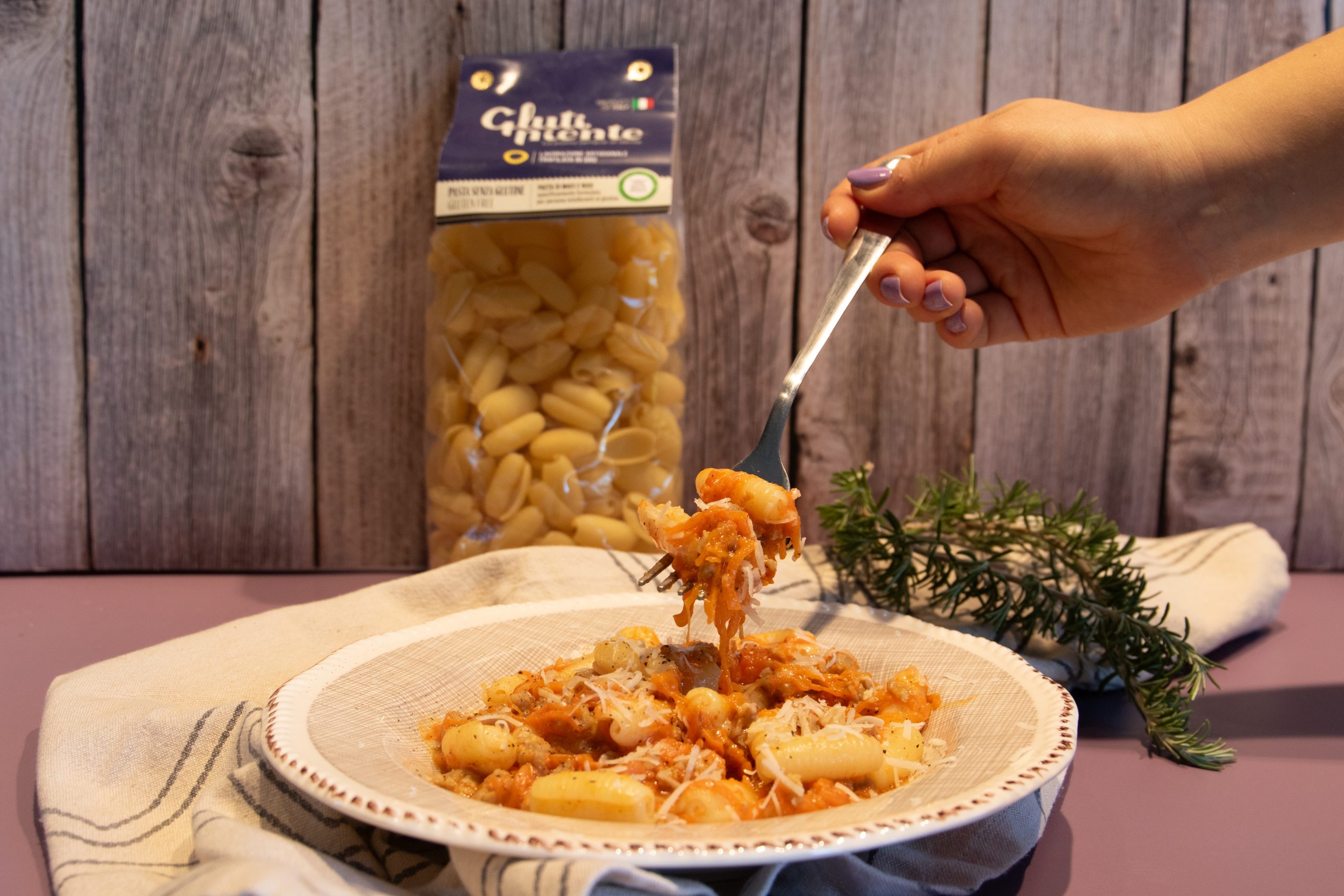 Pumpkin and sausage seasoning is among the most delicious and beloved combinations of the fall season. Glutiniente Gnocchetti with pumpkin and sausage are rich and full of flavor first course that is sure to please everyone in the family. The sweet taste of the pumpkin harmonizes perfectly with the robust flavor of the sausage, providing an impeccable balance of flavors. As it cooks, the pumpkin turns into a creamy delight, enriched by the presence of Parmesan cheese that binds the dish exceptionally well. The preparation of this pumpkin and sausage pasta is surprisingly simple. Find out with us every step of the process!
Perform Time

15 min

Cooking Time

35 min

Total

50 min
Ingredients
Seasoning
400 g of pumpkin of your choice
250 g of Sausage
½ Golden Onion
50 g Parmesan cheese DOP
Rosemary
Extra virgin olive oil
Fine salt
Pasta
320g of Gnocchetti Glutiniente
Water
Salt
Method
1
To prepare pasta with pumpkin and sausage start with the latter. Take it out of its casing, shell it with your hands and transfer it to a hot pan. Mash it lightly with a wooden spoon and cook for a few minutes. When golden brown, transfer the sausage to a bowl, cover with foil so it doesn't dry out and set aside Peel the onion, slice it and chop it finely. Move on to the squash: clean it by removing the seeds and inner filaments with a spoon. Remove the skin and cut it into cubes. Place on the stove a pot filled with water salted to taste that will be used for cooking the pasta. In the same pan where you cooked the sausage, add 2 tablespoons of oil and the onion. Add the squash, stirring well to give it flavor. Add the rosemary tied with a piece of string and add a ladleful of cooking water. Cook over medium heat for 15-20 minutes, then remove the rosemary and mash until pureed. Add one more ladleful of water. Add the sausage to the pumpkin puree and stir. Cook the Gnocchetti, drain them al dente and transfer them directly to the pan with the sauce. Add another ladleful of cooking water, if needed, and stir well. Add the grated Parmigiano Reggiano DOP and stir again. Saute the pasta for one minute and serve hot.